Recent Event:
26th March, 2022- Online performance by Sunanda Sharma, Hindustani Classical Vocalist, Benaras Gharana.
Host: MCKV Institute of Engineering, Liluah, Howrah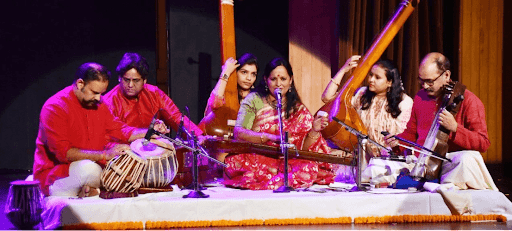 "My legacy will be taken forward through the beautiful thumris, chaitis and kajris sung by Sunanda. She has amazing control over her tans"
– Padma Vibhushan Dr. Girija Devi

SPIC MACAY – Celebrating the Spirit of Nishkaam Seva (www.spicmacay.com)
The Society for the Promotion of Indian Classical Music And Culture Amongst Youth (SPIC MACAY) is a voluntary youth movement that promotes intangible aspects of Indian cultural heritage by promoting Indian classical music, classical dance, folk music, yoga, meditation, crafts and other aspects of Indian culture; it is a movement with chapters in over 300 cities all over the world. SPIC MACAY was established by Dr. Kiran Seth in 1977 at IIT Delhi.
SPIC MACAY is an organization striving towards preserving our Nation's rich and diverse cultural heritage. They periodically organize Orientations, Programs etc. SPIC MACAY, under VIRASAT series, brings the best of Indian classical music, folk music and dance, award-winning craftsperson, eminent gurus of Yoga and meditation, distinguished speakers and historians to perform at educational institutes. SPIC MACAY is now working with the institutes conducting Online VIRASAT series to overcome the 'New Normal' of COVID-19.
MCKV Institute of Engineering is formally associated with SPICMACAY West  Bengal Chapter (SMWB).
As per the AICTE guidelines, MCKV Institute of Engineering, Liluah, Howrah formed the "SPIC MACAY Heritage club of MCKVIE", which is supposed to setup the framework for promoting Classical Music and Culture Amongst Youth. The club has been constituted on 22/7/2021.
Ms. Mahua Nandy Pal

CSE

Coordinator

9051321872

Ms. Mahua Raha(Patra)

ECE

Secretary

9231618295

Ms. Sushmita Sarkar

CSE

Treasurer

9830439536

Official email:
Student Executive Committees

Events Committee
| Name | Department | Phone |
| --- | --- | --- |
| Namrota Manna | CSE | 6289080630 |
| Roshni Dey | CSE | 8777682438 |
| Anuska Sil | ECE | 6290624572 |
| Riyanka Karmakar | CSE | 9748440130 |
| Sneha Majhi | IT | 8697380441 |
| Aritra Dutta | ECE | 8336059969 |
| Name | Department | Phone |
| --- | --- | --- |
| Ananya Basu | CSE | 8584927947 |
| Nabamita Bakshi | ECE | 7044604970 |
| Shreya Chakraborty | ECE | 7980784231 |
| Anish Koley | ECE | 8981170298 |
| Soumali Majumdar | IT | 8240761142 |
| Name | Department | Phone |
| --- | --- | --- |
| Ronit Singh | ECE | 9836818375 |
| Sabuj Golui | EE | 7431074211 |
| Ruparna Ghosh | IT | 9831692741 |
| Priti Sen | ECE | 9330919679 |
Events Attended by all club members:
Event Date: 10/12/2021, Friday
Cinema Classic: MODERN TIMES (1936) BY CHARLIE CHAPLIN (Duration: 87 Minutes)
Modern Times is a 1936 American silent comedy film written and directed by Charlie Chaplin in which his iconic Little Tramp character struggles to survive in the modern, industrialized world. The film is a commentary on the desperate employment and financial conditions many people faced during the Great Depression conditions created, in Chaplin's view, by the efficiencies of modern industrialization. It is notable for being the last time that Chaplin portrayed the Tramp character and for being the first time Chaplin's voice is heard on film.
Screening was followed by an interaction session with  Dr. Ashok Aswani, Founder,  Charlie Chaplin Circle Group.
Some glimpses of Modern Times :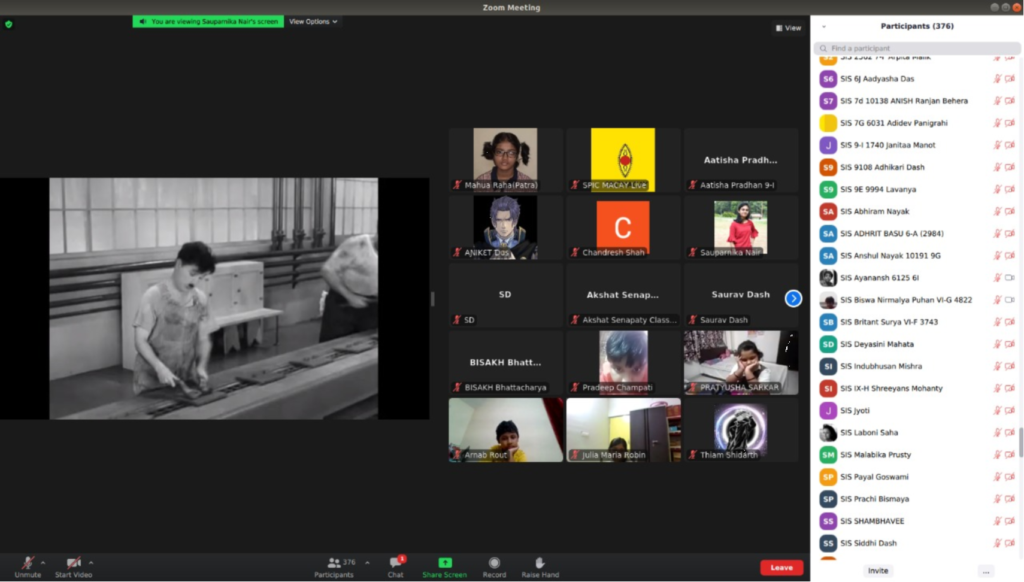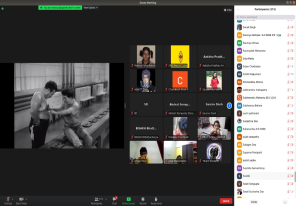 Event Date: 21/1/2022, Friday
Cinema Classic: WILD STRABERRIES (1957) BY INGMER BERGMAN,
Swedish (English subtitles), (Duration: 91 minutes)
Part of multiple renowned lists of best films ever made, Wild Strawberries (Smultronstället in Swedish) is considered one of the finest works of Bergman. Having won Golden Globe, Berlin's Golden Bear, and nominated for academy, BAFTA etc., the film has keenly inspired filmmakers since 50's, including stalwarts like Satyajit Ray and Woody Allen. Story follows the aged bacteriologist Prof Isak Borg (Victor Sjöström) from Stockholm to Lund. On way to receive his Doctor Jubilaris title, Isak has a confounding inwards journey towards closure and peace, where he'd relive the guilts of his steadfast life of 78 years and asses his indifferent present. An introspective script, its mesmerizing photography and the excellent actors, combine to make this film a quintessential experience for any cinema lover.
Screening was followed by an interaction session with Prof. Gayatri Chaterjee, Film Teacher & Writer
Some glimpses of Wild Strawberries :